Wednesday 5 July 2017 was the day of the biggest event of the year at Katarínka. The program of doors open day at Katarínka attracted more than 1,000 visitors from all parts of Slovakia. The focus was on the sightseeing tower which the volunteers from will Katarínka will open to public from 6 July.
The first people came to enjoy the peace and natural scenery even before the official beginning of the program. The main program started with a holy mass in the ruins of the church. The mass was celebrated by Franciscan Felix Mária (ThLic. Zdenko Žiška) and parish priest from Dechtice Miroslav Kováč. It was followed by a theater performance that described the interesting history of Church and Monastery of St. Catherine of Alexandria. Afterwards, visitors could enjoy the food prepared by the volunteers from Katarínka. The program continued with guided tours and various creative workshops for children.
After years of active volunteering activities, mainly in summer months, we are announcing opening of the sightseeing tower for general public, starting from 6 July. During doors open day, the tower was festively blessed, with presence of the invited guests. Entrance to the tower is possible only during good weather for max. 16 visitors and together with 2 guides. No special authorization is needed in advance; the tower will be (with a few exceptions) open during whole summer between 8:00 and 17:00.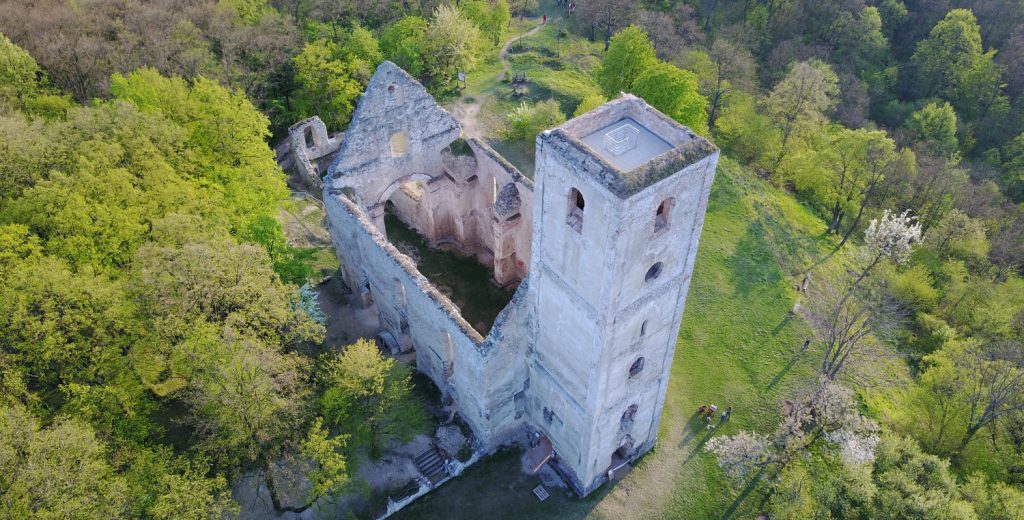 Founder of Katarínka project, Peter Herceg: "We are very pleased that we can share this success with others. After years of hard work, when hundreds of volunteers were taking turns here, we can open the sightseeing tower for public. Visitors can get to the top of a 30-meter high tower and enjoy the view of surroundings – Little Carpathians. We ask visitors for their patience, because we do not know how big will be the demand. A situation can occur when more visitors come and not everyone will be allowed to enter the tower. These limitations are related mainly to security measurements. We also in advance would like to point out that visitors should be careful when going up or down the tower, because the stairs are rather steep. We are looking forward to all visitors and believe that the sightseeing will be worth it."