The research was focused on the Gothic chapel that was localized exactly under the presbytery of the later Franciscan church. Our goal was to obtain as much details of chapel's history as possible, but we also did not avoid other objects of the research that concluded with conservation work.
The Gothic chapel and the research of the presbytery of the Baroque church
We tried to find the original entrance to the chapel in the interior of the presbytery. We expected it to be north-facing because of the best accessibility. Unfortunately, the holes dated back to the 20th century (due to the filling).
The research constantly affirms the importance of the reef that supported the Gothic chapel and later the Franciscan church. We excavated the cavern in the west-facing wall of the presbytery.
Surprisingly, there used to be an even older building than the Gothic chapel at this site. Its foundation was discovered under the foundation of the Gothic chapel. The only accessible place where we could excavate the object was the interior of the "cave" – we worked in a dark, cold and dangerous space. As our statics engineer M. Sc. Kohút and the Monuments Board of the Slovak Republic (Trnava) recommended, we decided to wall the "cave" up (in fact, it was dug by robbers) using bricks laid into clay instead of mortar.
The arch and the remains of the side altar
We excavated the trench under the arch of the Baroque church trying to find the wall that could affirm the enlargement of the chapel in the north – building up the Baroque church gradually.
We identified a door case made of stone and also stone foundations probably belonging to the side altar (photo, left).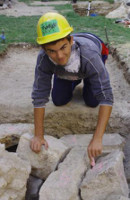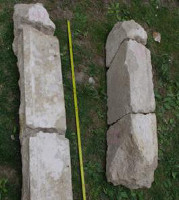 The monastery and its windows
We know the monastery's appearance thanks to historical illustrations. The archaeological research during the last seasons persuades us that these illustrations are quite inaccurate and schematic. Except for window cases, we also identified the intersection of the north-facing and east-facing walls of the main courtyard of the monastery.

Covering and backfilling of the trenches
Finally, we prepared Katarínka for winter, covering and backfilling all the trenches that were opened in the summer of 2012. In 2013 the excavations will continue…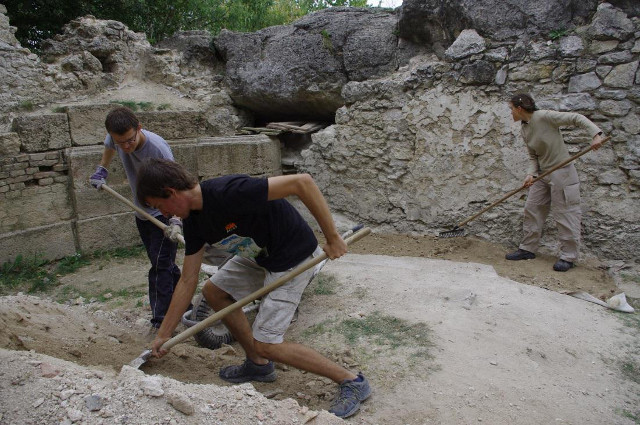 More information about archaelogical research at Katarinka and detailed research report from 2012 can be found in the Scientific works and research section.
© Michal Slivka 2012, © Ivana Kvetánová 2012