THE ENGLISH VERSION OF THIS ARTICLE IS UNDER CONSTRUCTION
Work season at Katarínka was finished with completion of almost all planned targets that were outlined in the article with the plan for season 2017.
Due to the fact that at the beginning of the season the tower was made available to public, the works in it were adjusted to avoid disturbing the guided visits. We were pointing windows arches and jambs on the first and second floor of the tower, mainly from the outer side (see comparison below).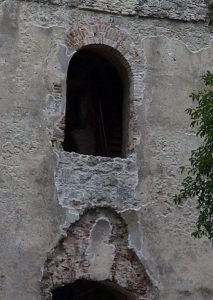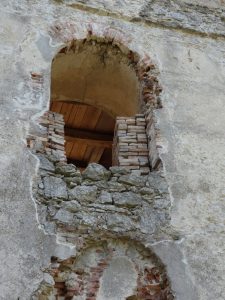 The head of the pillar in the north-east corner of the church nave was repaired and grassed over. Next to it, there is the last remaining pillar that will be repaired the next season. In both the interior and exterior of the church, plasters were being fixed and holes filled with mortar, including the entry to the tower.
The southern chancel wall was deeply re-pointed from both sides, its Južný múr presbytéria bol hĺbkovo preškárovaný z oboch strán, jeho koruna bola rozobratá a nanovo vymurovaná. Vrchné murivo bolo pokryté izolačnou ílovou vrstvou, na ktorej sú trsy trávy, aby bola nová malta chránená pred mrazom a inými poveternostnými vplyvmi (foto porovnanie nižšie).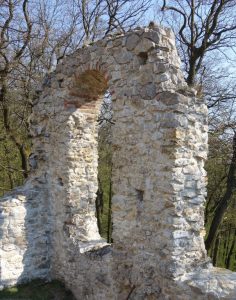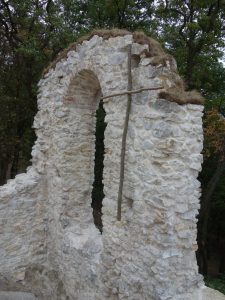 V kláštore sa pracovalo najmä v posledných troch celách a chodbe. Škárovalo sa, zachytávali sa omietky a dopĺňali sa špalety dverí aj okien.
Vo veľkom fungovala aj archeológia, bol objavený vstup a bočný múr Erdődyovskej krypty. Pri výkope pre hromozvod na našli kúsky podlahy v lodi kostola, ako aj podstavec veľkej sochy kalvárie (ktorá bola po zrušení kláštora prenesená do Dechtíc), vľavo od vchodu do kláštora.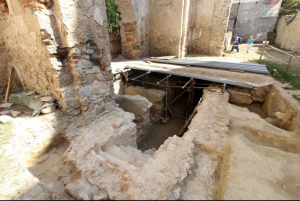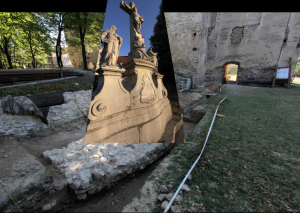 V strede leta, cez víkend 21.-23.7. prebehlo tiež dlho očakávané hasenie vápna, vápenná jama bola naplnená deviatimi tonami vápna. Na jeseň po sezóne boli ešte navŕtané a osadené okenice proti snehu a dažďu na 5. poschodí veže.