Content of questions and answers.
How can I get to Katarinka?
Parking?
With a pram?
Can I set fire in Katarinka?
Can I have my wedding in Katarinka?
Taking photos for wedding?
We would like to visit the tower. Can I ask you in advance to open it for us or give us keys?
Is it possible to do camping or sleap at Katarinka as a visitor ?
Can I record with a camera or take photos in any place in Katarinka?
---
How can I get to Katarínka?
There are direct lines (buses only) from Bratislava to Naháč or Dechtice. You can also take a bus or train from any town and change in Trnava (very regularly)
Naháč – blue tourist sign – 40 minutes
Dechtice – yellow turist sign– 80 minutes
Dobrá voda – blue tourist sign– 120 minutes
Location of the church tower according to GPS
N 48 o 33′ 19.2"
E 17 o 32′ 09.4"
absolute altitude: 324 m
Parking?
You can get to the parking area by car. It is approximetly 20 minutes far from Katarínka by walking
The side-cut to the parking area is between villages Dechtice and Naháč. See also Where is Katarínka?
With a pram?
The forest road is wide enough to be passable also by prams – it means it is accessible for "little tourists" too 🙂
Can I set fire?
It is possible to make the campfire  near church and monastery ruins – north direction – see the foto. For this purpose we have prepared few fireplaces.  It is recomended to use these fireplaces since there is direct view on Katarinka.
Since Katarínka belongs to protected landscape areas it is possible to berbecue only in fireplaces  prepared in advance, which can be considered as "official places for setting the fire". It is not  permited to set up new fireplaces. You should also consider is no place  to throw  your litter away.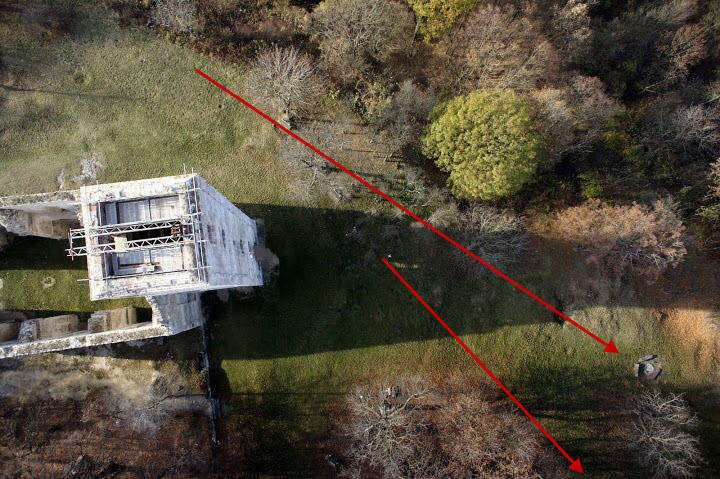 Can I have my wedding in Katarínka?
We admire your interest for Katarínka. Unfortunatelly  we don´t  give our permission for arranging wedding ceremony in interier of  the church ruins of St. Catherine that belongs to the property of  citizen assotiation Katarínka.
We considered this issue carefully and also  discussed it with higher authorities.  As for the civil or  catholic ceremony in this place, we state reasons leading to our decision below:
After discussing this issue with church authorities we have been informed, it is not permitted to  arrange civil  ceremonies in places used for liturgical purpuses.  For this reason we have concluded it is not  appropriate to have  civil ceremony in a sacral object.
In Trnava

archbishopric there is a custom of respecting the sanctity of place where holy sacraments are administrated. Matrimony is connected with "the wedding ceremony held in a church". We respect this decision 

also for precedential reasons.  The execption for Saint Catherine Church is applyed to celebrating the Mass and administrating the Sacrament of Penence(Confession).
Saint Catherine Church is the ruin of  franciscan church and monastery which we are trying to preserve, renew and revive in the spirit of francicsan spirituality in  unity with catholic church. St. Catherine Church is the spiritual place whose sacral function we are trying to restore  for example  by celebration of  catholic  Mass.
There is a problem with  Problémom je vjazd motorových vozidiel, ktorý je zakázaný aj podľa Zákona o lese aj podľa Zákona o ochrane prírody a krajiny. Samotné ruiny kláštora sa nachádzajú v Prírodnej rezervácii Katarína, kde platí 4. stupeň ochrany, a teda je zakázané použiť motorové vozidlo. V prípade konania sobáša, predpokladám, že všetci hostia by neboli ochotní ísť pešo lesom (pred lesom, za našim parkoviskom je zákaz vjazdu; od parkoviska je je to pešo na Katarínku ešte približne 20 minút). Výnimku zo zákazu nemôžeme my sami poskytnúť, nemáme na to právomoc, každú žiadosť o vjazd individuálne povoľuje orgán na to určený na základe vlastníckeho vzťahu ku nehnuteľnosti.
Ako možnú variantu Vám môžeme ponúknuť aspoň možnosť fotenia na Katarínke. V tomto prípade Vám ale tiež nevieme my sami poskytnúť povolenie vjazdu automobilu, nakoľko toto je v kompetencii Lesov SR, s.p., o.z. Smolenice (www.lesy.sk).
Veríme, že pochopíte naše dôvody.
Taking wedding photos?
You don´t need any permission for taking photos. The monastery is opened for everybody. You should only consider the fact, you are entering the Protected Landscape area of the Little Carpathian Mountains and also the monastery itself is situated in the Nature Reserve of Katarína with the fourth degree of  protection. Therefore it is forbidden to use any motor vehicle. Cars need to be left in the marked parkplace. However we know  it is difficult for brides in white dresses to walk through the forest.  From this reason people sometimes park their cars by our camp and walk to the church.   However there is a risk of  fine in case of  the Forest guard  which  we can´t influence and  we are not  in  charge of giving  any exceptions from this rule.
Various events are held in Kararínka throughout the year. Therfore we ask you kindly to announce your event by katarinka@katarinka.sk. Thank you.
Chcem ísť na vežu, dá sa vopred dohodnúť že nám otvoríte, resp. posuniete nám kľúče?
Nakoľko tam nebývame a nevieme si dovoliť každú chvíľu vysielať dobrovoľníkov, prosím, skúste využiť zverejnené termíny. Bezpečnostné predpisy prevádzky veže vyžadujú prítomnosť aspoň dvoch našich vyškolených dobrovoľníkov (vežiakov), aj z tohto dôvodu nie je možné ponechať vežu otvorenú non-stop. Sledujte našu webovú alebo Facebook stránku, kde pravidelne budeme informovať verejnosť o termínoch sprístupnenia veže.
Dá sa na Katarínke ako návštevník stanovať a prespať?
S prespaním je to komplikovanejšie, priamo pri kostole a na lúke pred ním je zakázané stanovať (Prírodná rezervácia), aj my máme náš tábor o čosi ďalej aj to len na špeciálnu výnimku. Ale dá sa prespať ešte kúsok ďalej smerom ku parkovisku pod lesom po žltej značke – napravo je lúčka (5 min. pešo), príp. aj priamo pri parkovisku (15 min. pešo od Katarínky).
Môžem natáčať na Katarínke video alebo fotiť na všetkých miestach?
Áno. Ak potrebujete, aby pri natáčaní nebolo veľa ľudí, overte si u nás na katarinka@katarinka.sk, či na tento termín nemáme plánovanú našu akciu a či náhodou nevieme o tom, že by sa tam organizovala akcia niekym iným.
Chceme vás hlavne poprosiť pri filmovaní či fotografovaní o dodržiavanie pravidiel – nepoškodzovanie pamiatky, nevyliezanie na múry a podobne. Veríme, že kameraman čo fotograf bude uvedomelý bude brať do úvahy, že ide o prírodnú rezerváciu so 4. stupňom ochrany.
Ak je technický problém zobrať so sebou veci na natáčanie z neďalekého záchytného parkoviska a dovoz k ruinám potrebujete (cello, kamera), dá sa povolenie jednorázového vjazdu riešiť cez Lesy SR, o.z. Smolenice (www.lesy.sk).