Pomôžte nám získať tento štvrtok 500€ na záchranu Katarínky
Details

Published on Wednesday, 23 August 2017
Nadácia Pontis ako správca programu DobraKrajina.sk venuje 500 eur organizácii, ktorá vo štvrtok 24. augusta 2017 od 0,00 hod. do 24,00 hod. vyzbiera cez portál DobraKrajina.sk najviac peňazí (t. j. súčet všetkých darov prijatých do jej projektu bude v daný deň najvyšší).

Na portáli DobraKrajina.sk treba vyhľadať medzi projektami "Katarínka" a poukázať dar v ľubovoľnej výške podľa vášho uváženia:
a) platobnou kartou (pre karty Visa, Visa Electron, MasterCard a Maestro);
b) on-line platbou (v prípade Tatra banky, Všeobecnej úverovej banky, Slovenskej sporiteľne);
c) prostredníctvom prevodu z bankového účtu - akceptované len vtedy, ak budú pripísané na bankový účet DobraKrajina.sk pre Katarínku 24. augusta 2017 od 0,00 hod. do 24.00 hod., teda platobý príkaz z inej banky ako VÚB musí byť zadaný deň vopred 23. augusta, v prípade prevodu vo VÚB banke presne v ten deň 24.8.
Číslo účtu vo formáte IBAN: SK27 0200 0000 0035 7513 1953
Variabilný symbol: 1008509823
The night of castles and ruins at 19th august
Details

Published on Monday, 21 August 2017
This article is available only in Slovak language.
Sightseeing tower at Katarínka - more information
Details

Published on Monday, 10 July 2017
Sightseeing tower at Katarínka is during the summer season (July-August) open every day between 9:00-17:00, every top of the hour*; max. 16 visitors can enter the tower at one time and only with 2 guides.
Children taller than 130cm can enter only accompanied by an adult person: 1 adult on 1 child** (it is necessary to oversee the child all the time and stairs are steep, going up to 30 m).
Standard guided tour in the sightseeing tower takes 25-40 minutes.
---
* Permanent access to sightseeing tower is not guaranteed – depending on availability of guides, number of visitors and weather – tower must be closed in case of bad weather. Current information about the next sightseeing is always available directly under the tower.
** Limitations for children are due to steep and long stairs (almost like ladders). Therefore, each child/teenager must be secured and accompanied by an adult. Height limitation for young children is due to steep stairs and also due to height of window ledges and wall edge on the top – see photos. Smaller children would not see anything and it is forbidden to lift children up.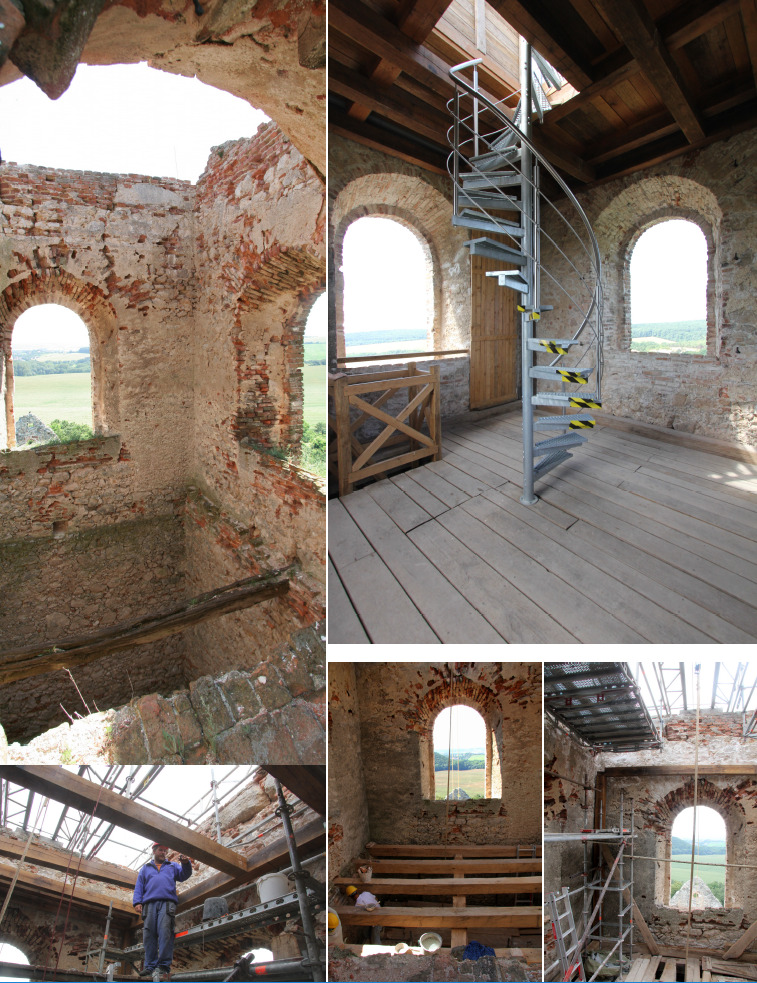 Doors Open Day at Katarínka – sightseeing tower opening
Details

Published on Friday, 07 July 2017
DECHTICE – Wednesday 5 July 2017 was the day of the biggest event of the year at Katarínka. The program of doors open day at Katarínka attracted more than 1,000 visitors from all parts of Slovakia. The focus was on the sightseeing tower which the volunteers from will Katarínka will open to public from 6 July.


The first people came to enjoy the peace and natural scenery even before the official beginning of the program. The main program started with a holy mass in the ruins of the church. The mass was celebrated by Franciscan Felix Mária (ThLic. Zdenko Žiška) and parish priest from Dechtice Miroslav Kováč. It was followed by a theater performance that described the interesting history of Church and Monastery of St. Catherine of Alexandria. Afterwards, visitors could enjoy the food prepared by the volunteers from Katarínka. The program continued with guided tours and various creative workshops for children.

After years of active volunteering activities, mainly in summer months, we are announcing opening of the sightseeing tower for general public, starting from 6 July. During doors open day, the tower was festively blessed, with presence of the invited guests. Entrance to the tower is possible only during good weather for max. 16 visitors and together with 2 guides. No special authorization is needed in advance; the tower will be (with a few exceptions) open during whole summer between 8:00 and 17:00.

Founder of Katarínka project, Peter Herceg: "We are very pleased that we can share this success with others. After years of hard work, when hundreds of volunteers were taking turns here, we can open the sightseeing tower for public. Visitors can get to the top of a 30-meter high tower and enjoy the view of surroundings – Little Carpathians. We ask visitors for their patience, because we do not know how big will be the demand. A situation can occur when more visitors come and not everyone will be allowed to enter the tower. These limitations are related mainly to security measurements. We also in advance would like to point out that visitors should be careful when going up or down the tower, because the stairs are rather steep. We are looking forward to all visitors and believe that the sightseeing will be worth it."
Work plan 2017
Details

Published on Friday, 30 June 2017
This article is available only in Slovak language.
Thank you for joining the Katarinka project
Details

Published on Monday, 14 May 2012
If you wish to join us for 2 weeks next year to save the ruins of St. Catherine and are more than 17 years old, do not hesitate! You will experience 14 days outside civilization, deep in the woods, traditional crafts, masonry, archaeology, etc.
Night event at Katarínka, 9. june 2017 - report
Details

Published on Thursday, 15 June 2017
This article is available only in Slovak language.
Pilgrimage to Katarínka - starting the 23rd season
Details

Published on Tuesday, 25 April 2017
This article is available only in Slovak language.